"Relationships between staff and pupils are very strong and based on mutual respect."  OFSTED Nov 2015

" Pupils feel safe and valued for who they are."  OFSTED Nov 2015

" Staff and pupils are now enjoying the benefits of a high-quality learning environment."  OFSTED Nov 2015
WISDOM • HOPE • COMMUNITY • DIGNITY • EQUALITY
Welcome to St Hilda's
A Belief in Excellence

For to view the presentation videos and the College prospectus, please visit the
College 20-21 Virtual Open Evening information page.
Please click here.
______________________________________________________________________________________________________________
COVID-19 INFORMATION
Please refer to the information relating to your child's year group previously emailed to parents and carers. 
This information is also available on the 'COVID-19 information' page, under the 'Support' menu on the school website.
TO VIEW, PLEASE CLICK HERE
Please note that visitors are by appointment only.
________________________________________________________________________________________________
St Hilda's GCSE Results 2019
Our first reaction is WOW!  An incredible set of results for the GCSE class of 2019!  Our results are even better than last year's results.  Given the increased challenge and difficulty of the new style GCSEs, we are so proud of our students.  Students and staff have clearly worked incredibly hard to secure results like these.
More
St Hilda's is unique
As the only co-educational 11-18 Church of England school in Liverpool, St Hilda's is unique. Our students and staff make St Hilda's a special place to learn, supported by a brand new £15 million building. At St Hilda's we truly believe that people matter most.
We are a community underpinned by our Christian values and principles. Positive, respectful relationships lead to the success we continue to enjoy.  Our core purpose is to inspire our students to embrace learning and develop the skills necessary to be successful in a changing world.  Aspirations are high.  We believe there is no limit to what St Hilda's students can achieve.
St Hilda's students have achieved fantastic GCSE and A Level results. Over half of our students gained at least 1 A* or A grade at GCSE. We are above the national average for maths, English Language and English Literature for the top grade 9. A Level results were also a cause for celebration. We have a 99.9% pass rate and our students have been accepted into the top Russell Group universities!
I hope this website gives you a flavour of who we are and our values; educating for wisdom, hope, community, dignity and equality!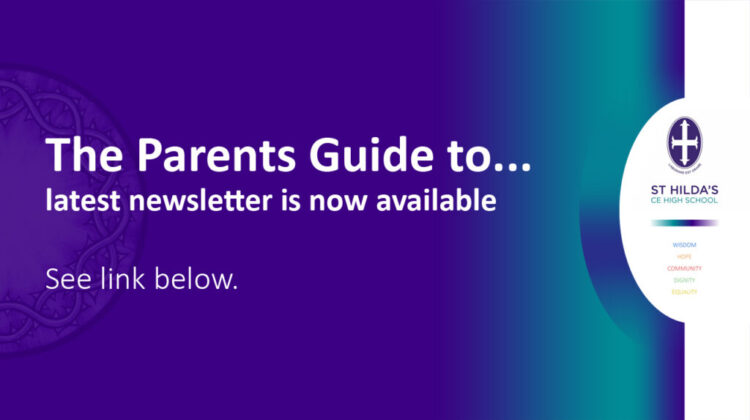 'The Parents' Guide to' latest newsletter is now available.  To view, please click on the link below: https://www.theparentsguideto.co.uk/school-newsletter Personal statement resources (suitable for parents of sixth formers). For students still hoping to apply to university for the 2021/2022 academic year it would be great if they gave some thought over the summer holidays about the […]

Tell us about the book you've read!
Please note the reading pledge totals are updated weekly by our librarian and not automatically